Bienvenue !

Have a safe PT Cruisin'
Nous avons eu grand plaisir de posséder des PT Cruiser de 2001 à fin 2020 et ce n'était que du bonheur ! Après avoir cruisé avec une version classic deep cranberry,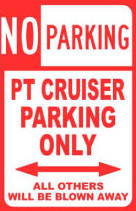 c'est une version GT de couleur Dark Plum qui a pris le relais en 2006. Juillet 2017, un cabriolet est venu complété notre passion pour le PT Cruiser.
Différentes rubriques sont à votre disposition, dont un Showroom où plein de PT sont visibles, des photos de meetings européens auxquels nous avons participé et une rubrique Garage dans laquelle vous trouverez passablement d'aides et astuces pour personnaliser votre PT. Malgré tout, nous resterons des passionnés et nous n'hésiterons pas à aller voir une sortie PT que nous aperçevrons et discuter avec les participants.
Les 20 ans du PT Cruiser au Lac du Der
La chaîne youtube de Fanatic PT
Les rencontres de PT en Europe

Ayez l'esprit PT ! Faites un signe de la main ou un appel de phares lorsque vous croisez un autre PT !
YES ! We had !. My first PT was a classic model with Touring equipment and the color is deep cranberry. Then, we had two, a PT Turbo dark plum and a electric blue convertible. I hope that you will enjoy to discover this particular car. In USA, some people says that it was the same phenomen when the Mustang was going out by Ford in 1964 ! In Switzerland, it was more quite !
For my first PT, I have done : refinisching center console, refinisching shift knob, install a passenger side armrest and build my own dice for doors and wheels and reprogramming the eprom of the motor.
I have done this site for the people who don't speak english but french. You will find almost the same informations in english for some modifications on the site PTDOITYOURSELF.